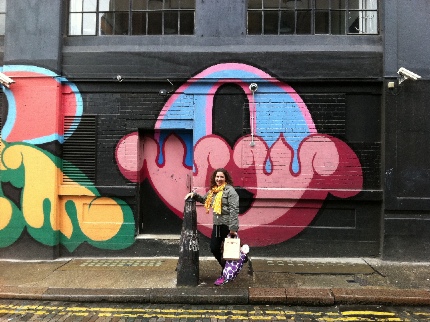 Me in east London. Soon of to Ms Marmitelovers house.
Last week i packed my suitcase with all sorts of goodies, Lunator beer from Grebbestad, cheeses and organic bread from Cumpane in Majorna. Going to London to meet up with "chef of the year" Gustav Trädgårdh at the Swedish embassy. We where invited by Visit Sweden together with three other chefs from Sweden who have all been "chef of the year", one of Swedens most prestigious prices. I was assigned to be a storyteller and bring light to our delicious food. Four different food bloggers was chosen. Me and Gustav was heading for Kerstin Rodgers house. She runs the blogg "Ms Marmitelover" and are a famous foodblogger living in London. She also was among the first to start up "secret supperclubs" at here house. She's also a photographer and skilled foodie. Who has got at nose for god food and interesting artisan handicraft food.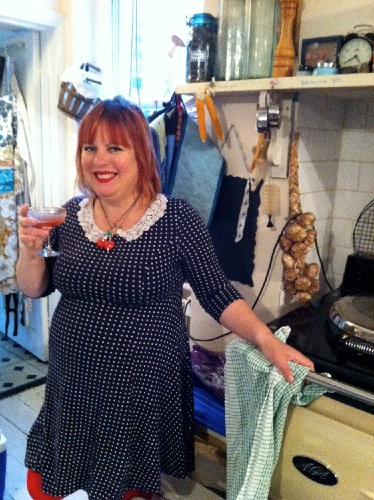 Kerstin Rodgers having a rhubarb drink before dinner.
Gustav Trädgårdh who runs restaurant "Sjömagasinet", a famous fish and shellfish restaurant in Gothenburg was well prepared. He was going for different cured herrings for starters. Artisan cheese, rye bread and butter to combine. Kerstin loved every bit of the herrings and couldn't stop asking questions and twittering during eating. She had invited best friends Maria Grist, Les Wong and daughter Sienna to the relaxing dinner. Al set up in here picturesque kitchen filled with bowls, plates and other kitchenstuff in a french/brittish style. I loved it and would had loved some extra time to go shopping with Kerstin.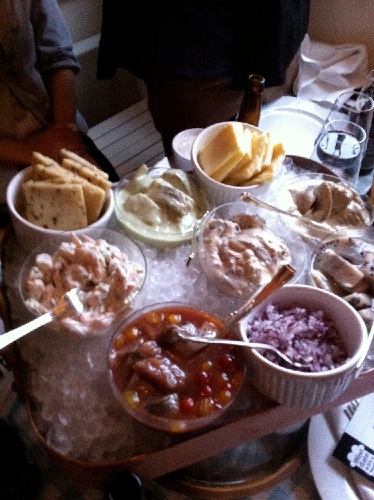 Different cured herrings with basil, caviar, mustard, tomatoes and allspice.
– This is so weird, but i love it, said Maria Grist and had seconds of the basil herring.
Gustav explained that he had brought a selection of five different herrings from his restaurant. Together with rye bread, crisp bread, cheeses and potatoes. Classic Bohus style prawns from Smögen with mayo and dill was also served. Lunator beer from Grebbestad Brewery made the beginning of the evening a good opening.
– Bring it on Gustav, said Kerstin. And we where all up for mains. A west coast cod with smoked quil eggs that had survived the trip over without breaking. Mash with ansjovy and golden butter. We where all in heaven and totally happy!
Gustav told us all about his methods for curing herring. The secret is a 1-2-3 lag with water, sugar and "ättika". A strong vinegar of 12% or 24%. After being cured it gets sweet and tasty. Combined with onion, spices or creamy sauce with mayo and spices.
Ready for desert we tuck in to a rhubarb dessert with cheesecake and liqourice truffle.
– I love rhubarb, said a extreamly happy Kerstin and jumped into the kitchen to have a chat with Gustav.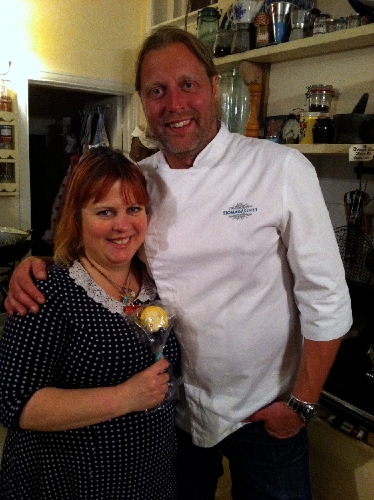 Kerstin with here chocolate lolly made up as Margret Thatcher and Chef Gustav.
RECEPIES: Maria Zihammou
Kronans Kaka
A heavy cake rich in flavours made with potatoes and almonds. This is my grandmother Gudruns recipe. Good as it is with tea or with cream and cherrie jam.
100 g butter
1 ½ dl sugar
2 organic eggs
125 g boiled potatoes
100 g almonds
2-3 bitter almonds
Preheat oven to 175C. Grease and lina a springform tin of 23 cm. Beat butter (room temperature) with sugar and eggs . Peal and grate potatoes. Finely ground almounds and bitter almonds. Or mix it very finely. Stir in the potatoes and almounds. Mix together carefully and pour in to the tin. Bake in the middle of the oven in 50-60 min. Cool in tin and serve with cream and cherrie jam or on its own to tea or coffee.
Cured herring in 1-2-3 lag
This is Sweden on a plate. We love to eat herring the whole year. And for christmas at "julebord" we like to make many variations. Herring is put in a "lag" to be cured with sugar, water and "ättika". A strong vineager of 12% or 24 %. After 24 hours or more the herring is ready to be put in a jar with different spices, onion or combined with a creamy tasty sauce. Eat with rye bread, cheese or potatoes.
600 g herring fillets, skin off
Lag 1:
5 dl water
1 dl "ättika" 12%
1 tbsp salt
Lag 2:
2 dl "ättika" 12%
4 dl sugar
6 dl water
1 red onion
1 tbsp allspice
Mix lag number 1 with water, ättika and salt. Put the herrings in a bowl and pour over the lag. Cover and put in the fridge for 12 hours. Drain and throw avay the lag. Mix lag number 2. With ättika, suger and water. Peal and finely slice onion. Crusch allspice roughly. Combine herring with onion and allspice in a big jar. Pour over the lag and cover with a lid. Keep in fridge.